Whether you're a novice or a dab hand at property development, these five questions should help you plan for a better overall experience and prepare for the unexpected.
1. Who is the intended sales market and is there a demand for it?
You have found yourself a brownfield site, have passed all the checks and have grand ideas of a multi-complex high-end block of apartments for the young professional market. You build, but nothing sells. You make a massive loss! Why?
The neighbours are a mix of families with 2.4 kids with a dog and pensioners over the age of 70. There is no demand for high rise one/two-bedroom apartment blocks with the latest gym facilities or gastro-pub dining. Do your homework! Find out about the local area, what are the demographics, what transport links are there? What facilities are nearby? Is there plenty of businesses offering work? Is the area commutable?
The same principals apply no matter the development project. You need to always consider your buyer and whether there is a need or demand for the type of development you plan to build.
Use resources, ask questions, join forums, join networking events, talk to locals, seek professional help. It is imperative you research your location and the sales market you want to target. Without this knowledge your development project investment will fall at the first hurdle never to make that significant growth potential you hoped for.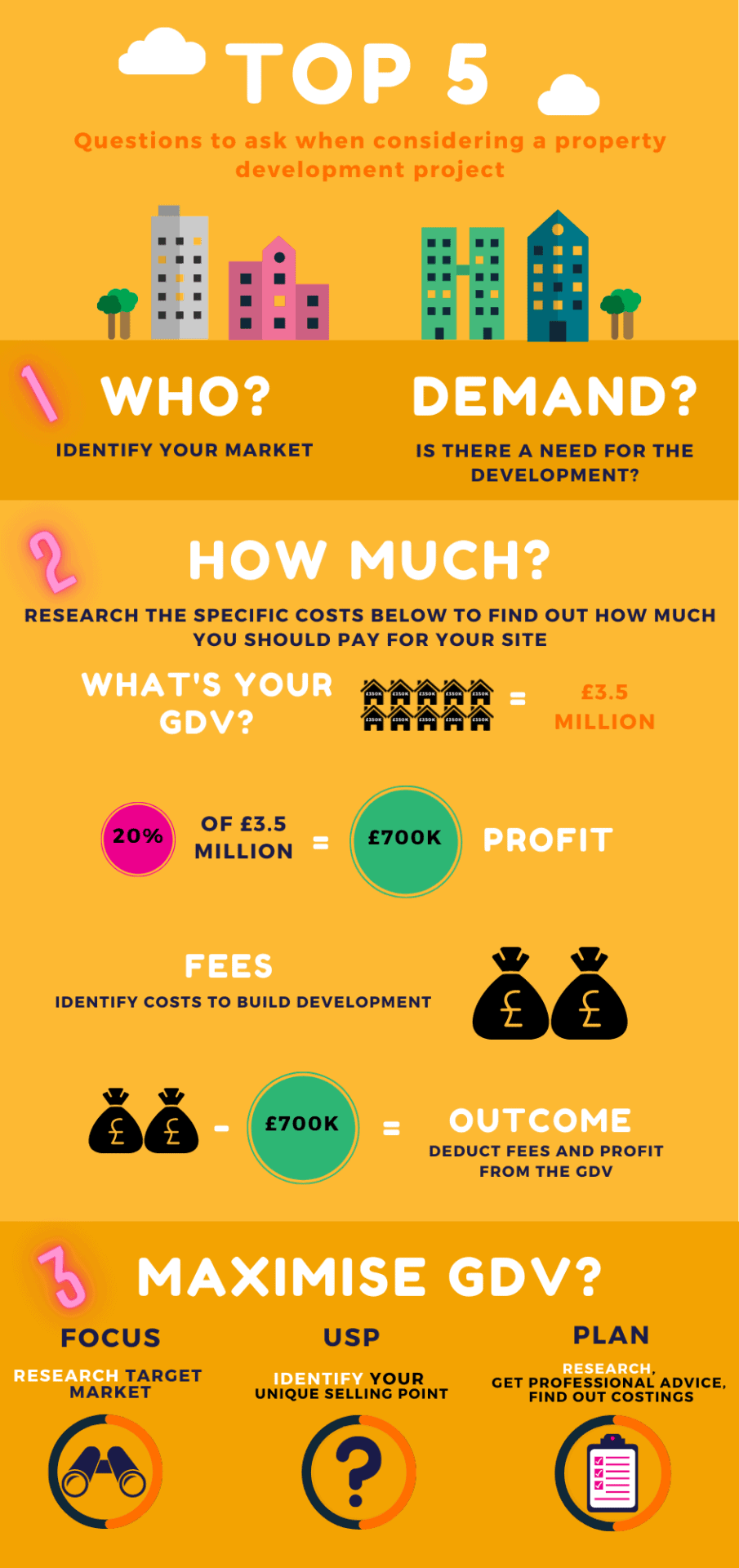 2. How much should I pay for the site?
Before you spend your hard-earned cash on a site, you must consider professional fees and stamp duty in addition to your acquisition. Now to determine the value of the land.
By finding out a specific calculation will give you a more 'realistic' cost than just finding a comparable example of land that has sold previously.
First to consider is what will the development sell for once it has been developed, also known as the GDV, Gross Development Value.
Example: 10 houses built and sold for £350,000 each, so GDV totals to £3,500,000.00
Next calculate the profit, you as a developer, need to make on the development project. This is based on 20% profit of the GDV.
Example: 20% of £3,500,000.00 = £700,000.00
You then need to calculate how much it will cost to build the development. This can cover an extensive list of areas such as;
Cost of building the houses
Costs for professional services such as architects, planning, engineers, cost consultants, solicitors, and property agents
Cost of preparation of site such as demolition and land remediation
Cost of infrastructure such as roads and sewers
After these costs have been considered you can then work out how much you have left and whether the land is worth the sale price. By deducting the profit and the construction costs off the GDV will determine what's left.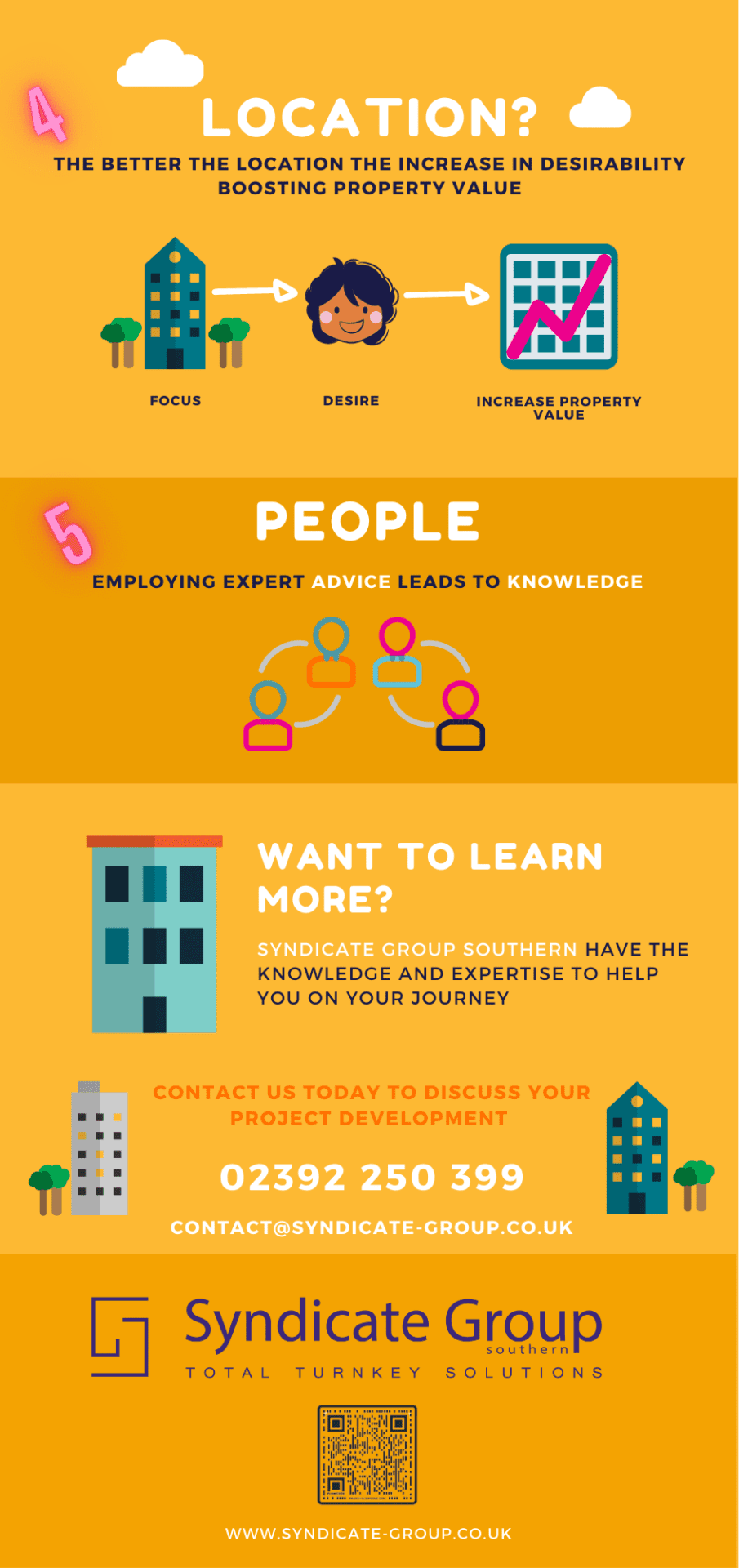 3. What is the maximum GDV I can achieve?
GDV is the most important performance metric you as a developer will measure. To maximise your profit when considering a development project, one should aim to reach the optimum GDV.
Focusing on your 'target market' and identifying a USP of your development project which in turn adds value for the buyer can have major benefits to your GDV.
Whether that's sustainability and energy efficiency throughout the development. Being aware of the NET ZERO CARBON target the government have set out and adopting environmental elements into your development or adding an additional premium to your development can increase value to your project.
Another key point is to plan your development project precisely. By factoring in all the costs and having a clear plan of the build can determine how much profit is due against the GDV.
4. Does the location suit the product?
"Location, location, location"! it may be a cliché, but it is a well-known statement for a reason. If you plan to develop a retirement village complex in a high crime urban location, you will find it hard to sell your units.
Understanding your target market will have an affect on your location preferences. Researching the area, identifying improvements in neighbourhoods, infrastructure, and work facilities available are factors to consider when choosing a plot location. The better the location the increase in desirability, essentially boosting property value.
Consider reviewing planning portals, council developments and infrastructure plans, tools that help you to learn whether your project development is the right build for the right location.
5. I know I need an Architect, but who else do I need?
There is quite an extensive list of people that should be considered when planning your development project. The list below is an example of who may be needed for your project (not exclusive). They are listed in alphabetical order;
Accountant / Financial Planner
Acoustics Advisor
Agent/ Sales staff
Architect
Asbestos Surveyor
Bank / Mortgage broker
Builder
Building Control Officer
Building Surveyor
Building Warranty Advisor
Certifier
Contract Administrator
Draftsman / Building Designer
Environmental Offices
Geotechnical Engineer
Interior Designer
Land Developer
Mechanical & Electrical Consultant
Planner
Principle Designer
Project Manager
SAPS Advisor
Solicitor
Structural Engineer
Suppliers / Manufacturers
Surveyors – Quantity & Land
Tradesmen
Valuer
By engaging with these parties, you are seeking expert advice furnishing you with fundamental information that lays out the foundation of your critical development plan.
Hopefully these five questions have given you food for thought. We at Syndicate Group Southern are here to help you on your development project. If you want to learn more and want to turn your development into investment, then give us a call today.